A World-class Building Exuding Elegance & Exclusivity
Heritage
True beauty has the power to inspire and elevate. Every day, it enriches our lives in infinite ways both obvious and subtle. A moving sonnet, a powerful film, an infectious rhythm, a rare vintage, an impressionist landscape – when we encounter singular works of beauty, our senses are heightened, and somehow the way in which we perceive our world is changed forever.

Beauty is timeless, as are the artisans who pour heart and soul into its creation. Their talent, genius and muse create gifts that are beyond measure.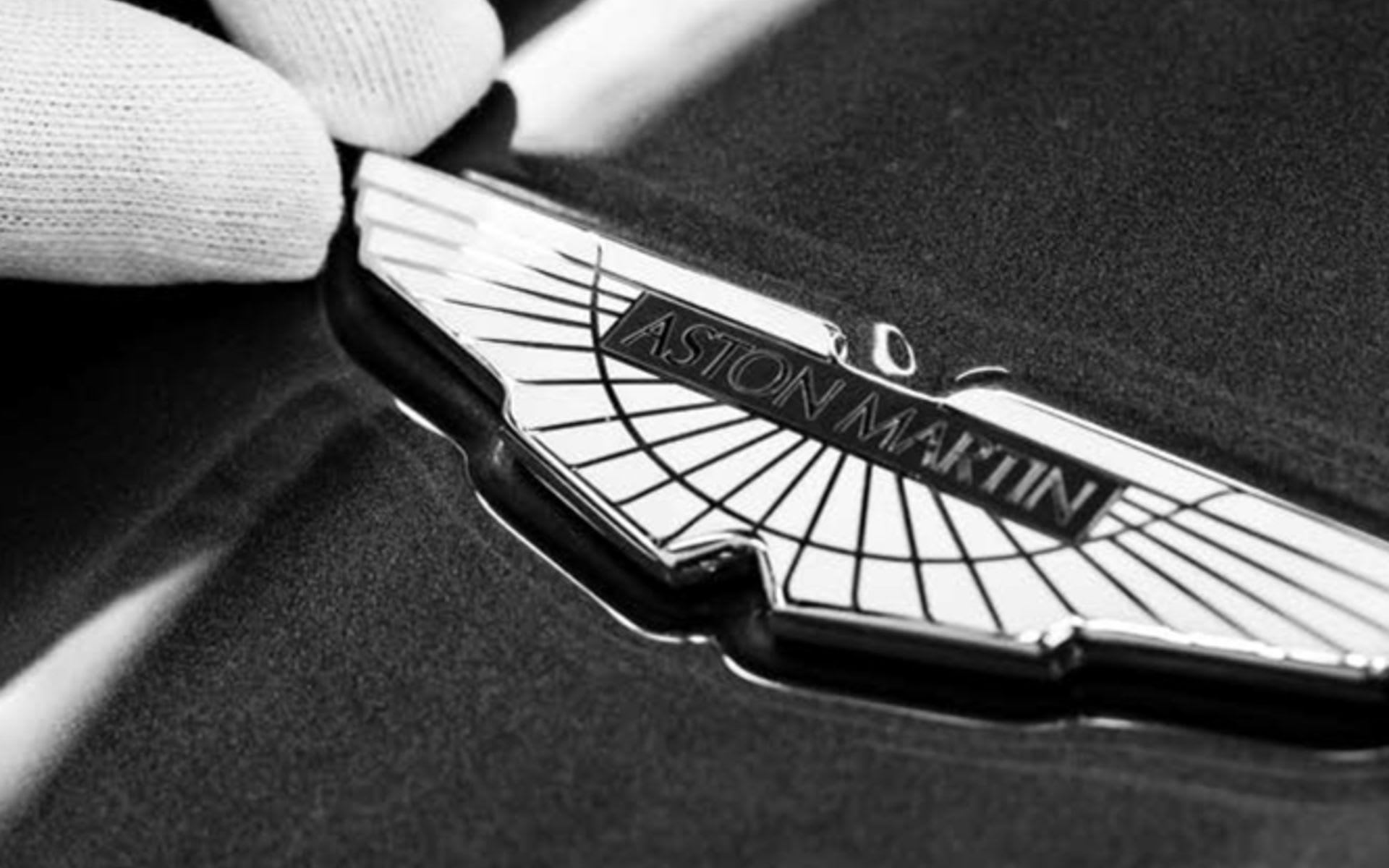 A Fiercely Independent Spirit and a Rich and Prestigious History Defines Aston Martin as Truly Unique in the Automotive World.
Birth of A Legend


The incredible story begins on January 15th, 1913 when founders Robert Bamford and Lionel Martin created Bamford and Martin Limited, working from a humble workshop on Henniker Mews in London.

Their vision for cars with an impeccable design and supreme performance captivated the public's imagination and still commands the same emotive fascination over 100 years later.

In 1914 the name Aston Martin was adopted. Fittingly, this decision was inspired by Lionel's success at the Aston Hill Climb in Buckinghamshire, England.

Competition has always been in their blood. Since those pioneering days, Aston Martin has become an iconic brand synonymous with handcrafted luxury, peerless beauty, incredible performance and international motorsport glory.


The Very Essence of Aston Martin Is Something You Feel Each Time You Look at One of Our Cars. It Sweeps Over You Every Moment You Spend Behind the Wheel.
Powerful, exhilarating and precise yet timelessly elegant and sophisticated, our cars blend iconic design, exceptional engineering and unrivalled craftsmanship to create an unforgettable, emotional experience The Essence of Aston Martin.


The People Who Bring Our Cars to Life Are Inspired by a Shared Pride in Representing Aston Martin and Energized by a Common Determination to Create the Most Beautiful Cars in the World.
Passion for Perfection


A unique collective skill set, time-honoured artisan techniques and advanced technology are intricately woven together as each car is created.

Our team's dedication to push beyond accepted standards of perfection to achieve an unheralded level of dynamic and aesthetic precision is truly unique.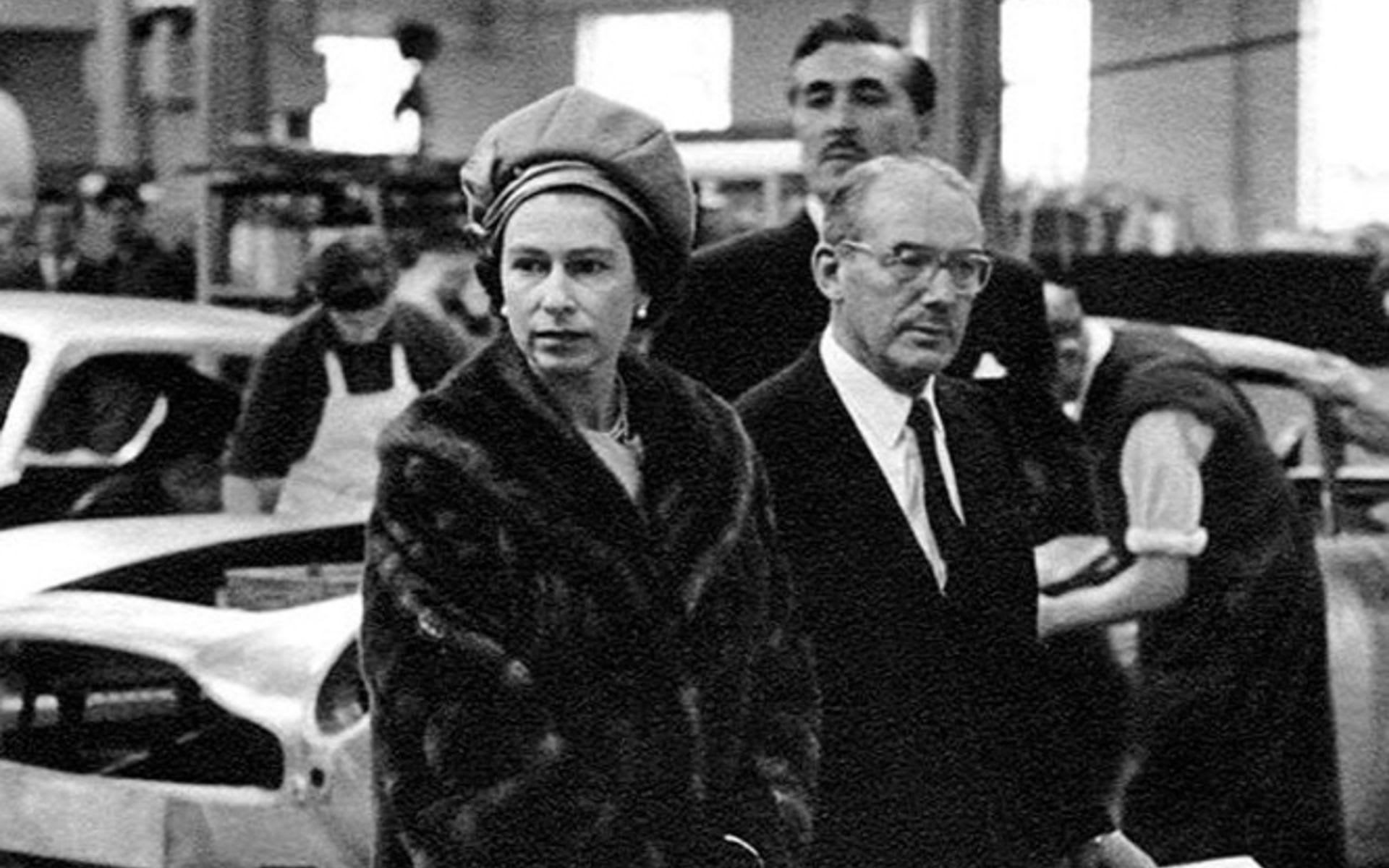 Residences
Unrivalled prestige, unequalled craftsmanship, uncompromising standards. For over a century, the Aston Martin name has been synonymous with excellence in the field of motorcar design and is one of the world's most iconic, recognisable marques. Each one produced is bespoke and handcrafted, making a highly personal statement about the owner who possesses it.

For their vision of 300 Biscayne Boulevard Way in downtown Miami, Aston Martin partnered with renowned developer G&G Business Developments LLC to translate its legendary design into an exclusive real estate venture.

The result is a prestigious, one-of-a-kind building that represents the pinnacle of elegant living.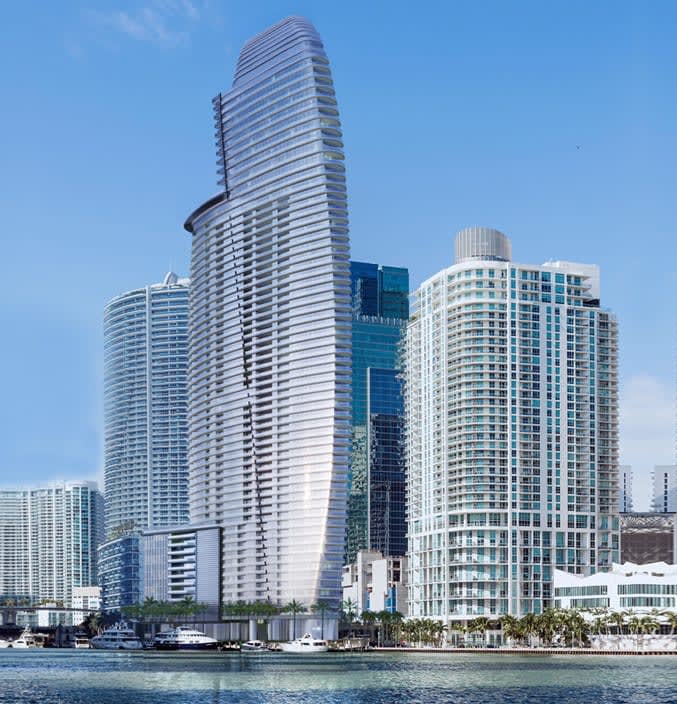 Every Aspect of the Aston Martin Residences at 300 Biscayne Boulevard Way Has Been Carefully Considered to Provide the Perfect Balance Between Maximisation of Space, Optimal Light and Views, and the Needs of Today's Modern Cosmopolitan Lifestyle.
Residences

A select few will comprise the most breathtaking penthouses including the jewel in the crown – one superb triplex condominium.

Panoramic views of Biscayne Bay, the Miami River and the dynamic Miami skyline abound, providing an ever-changing, dramatic backdrop.

A full complement of amenities such as a state-of-the-art fitness centre and spa, large pool deck, salons, lounges and a marina are all located onsite for total convenience.

With its captivating design and outstanding features, the Aston Martin Residences at 300 Biscayne Boulevard Way perfectly captures a spirit of graceful beauty and thrilling excitement.

View Floorplans


Residence Features


Expansive floorplans layouts
Penthouses ranging from 8,977 SF to 10,463 SF
5 bedrooms ranging from 3,764 SF to 3,994 SF
4 bedrooms ranging from 3,235 SF to 4,434 SF
3 bedrooms ranging from 2,236 SF to 3,075 SF
2 bedrooms ranging from 1,317 SF to 1,001 SF
1 bedroom ranging from 754 SF to 1,001 SF
Studios from 698 SF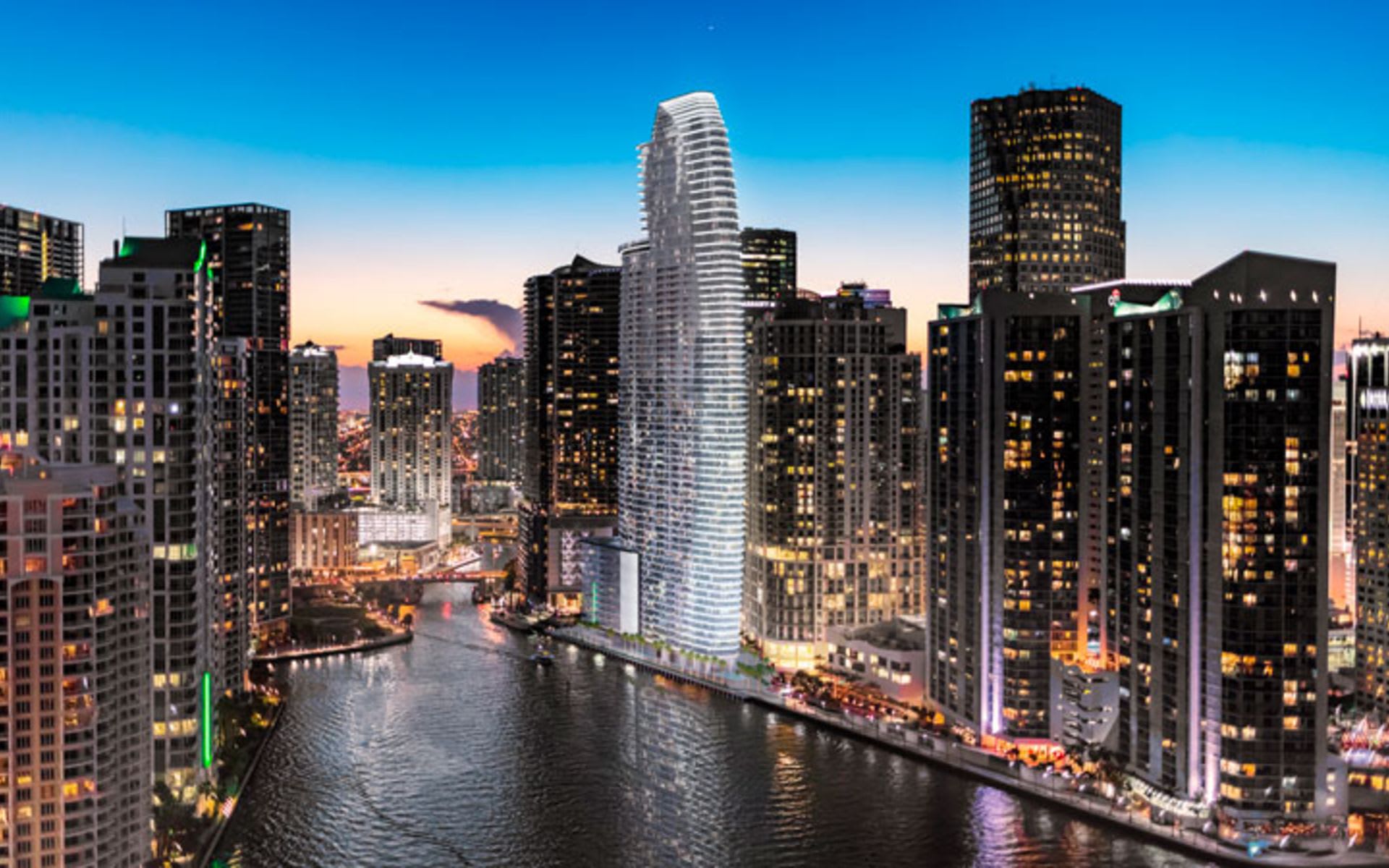 Building Information
391 Condominium Residences
66 Floors
1-5 Bedroom Residences, Duplexes, Penthouses, and Triple Penthouse


Levels
Levels 3 through 14 – River Residences
Levels 15 through 45 – Panoramic Residences
Levels 46 through 51 – Sky Residences
Levels 56 through 62 – Penthouses
Levels 63 through 65 – Triple Penthouse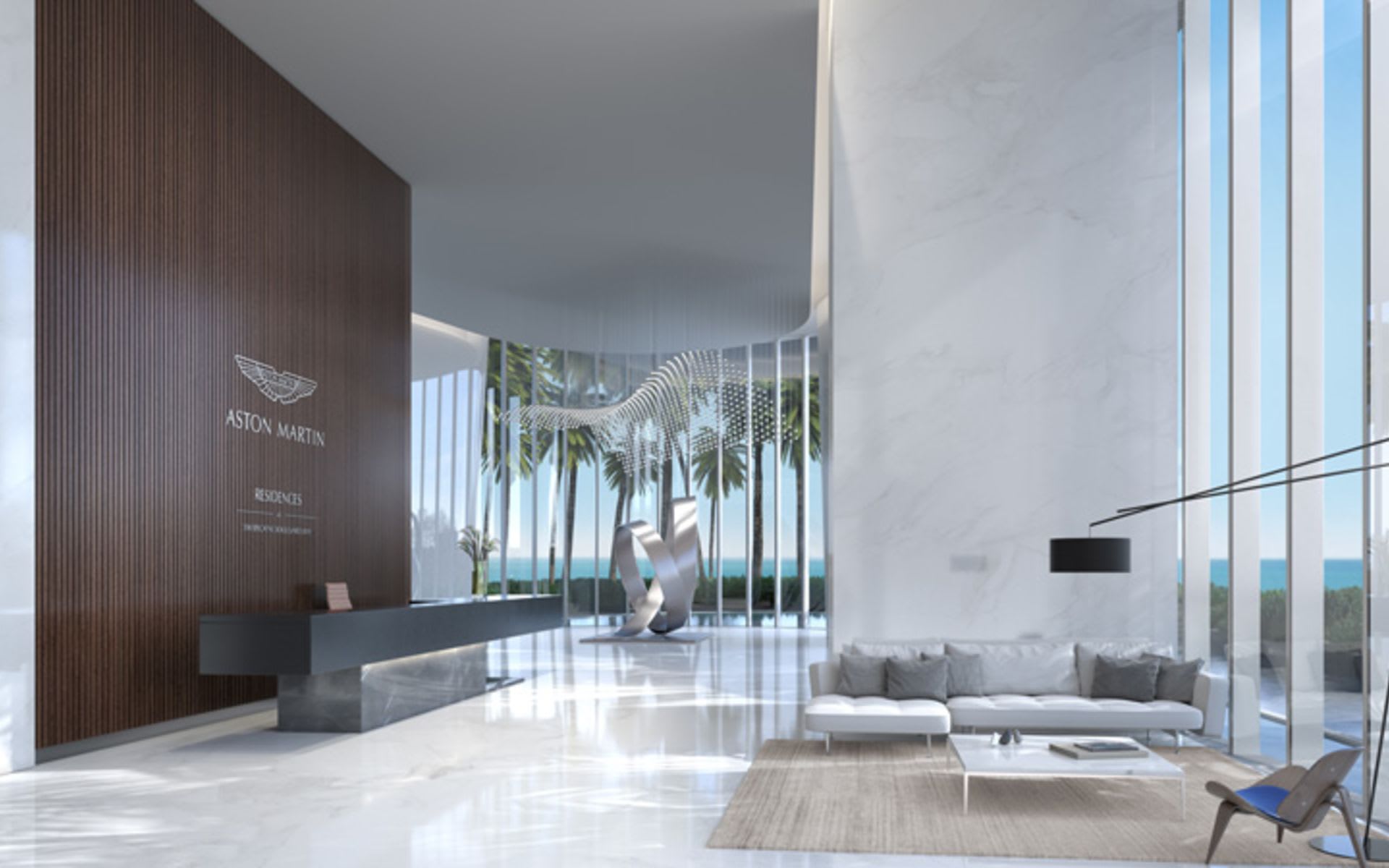 Exquisite and Meticulously Designed Spaces.


Luxury kitchens with Bulthaup cabinetry and Gaggenau appliances, and premium marble flooring, creating the perfect ambience for the most comfortable and elegant living.
Spacious and naturally luminous kitchens have been inspired by the love for beauty, created with unrivalled craftmanship and attention to detail.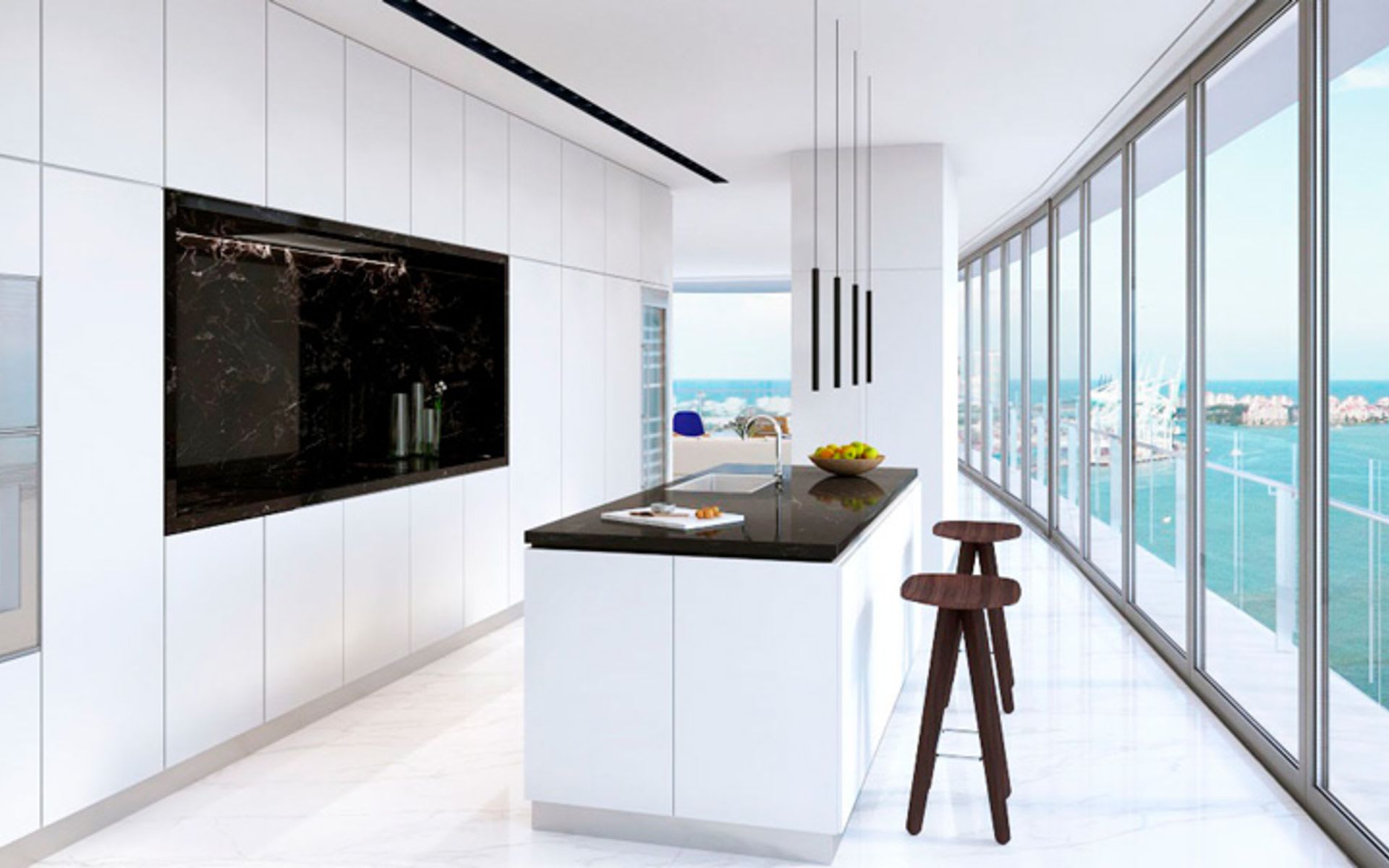 Sophisticated Style. Unparalleled Views.


The perfect balance between maximisation of space and optimal light.
Bathrooms with floor to ceiling windows, for enjoying the panoramic views of Biscayne Bay and Miami River.
Designed and crafted by artisans using the most noble materials, including european cabinetry and premium marble flooring.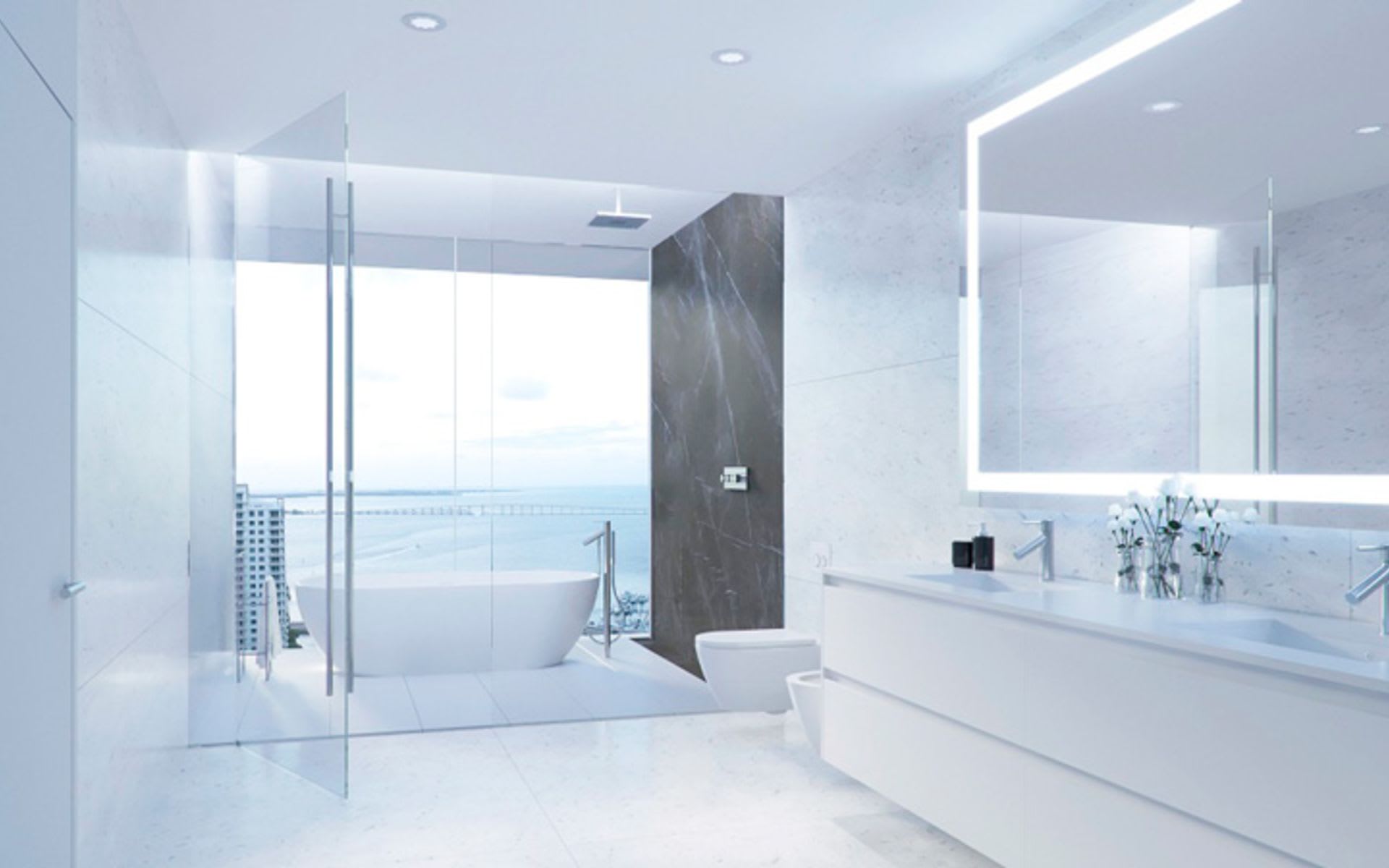 Sky Amenities
The breadth, depth and calibre of the amenities available to those who call the Aston Martin Residences at 300 Biscayne Boulevard Way their home are simply unrivaled. Encompassing 42,275 square feet on four entire floors.

Residents can avail themselves of superb facilities and services carefully selected to heal the mind, relax the body and lift the spirit – all virtually steps from their front doors.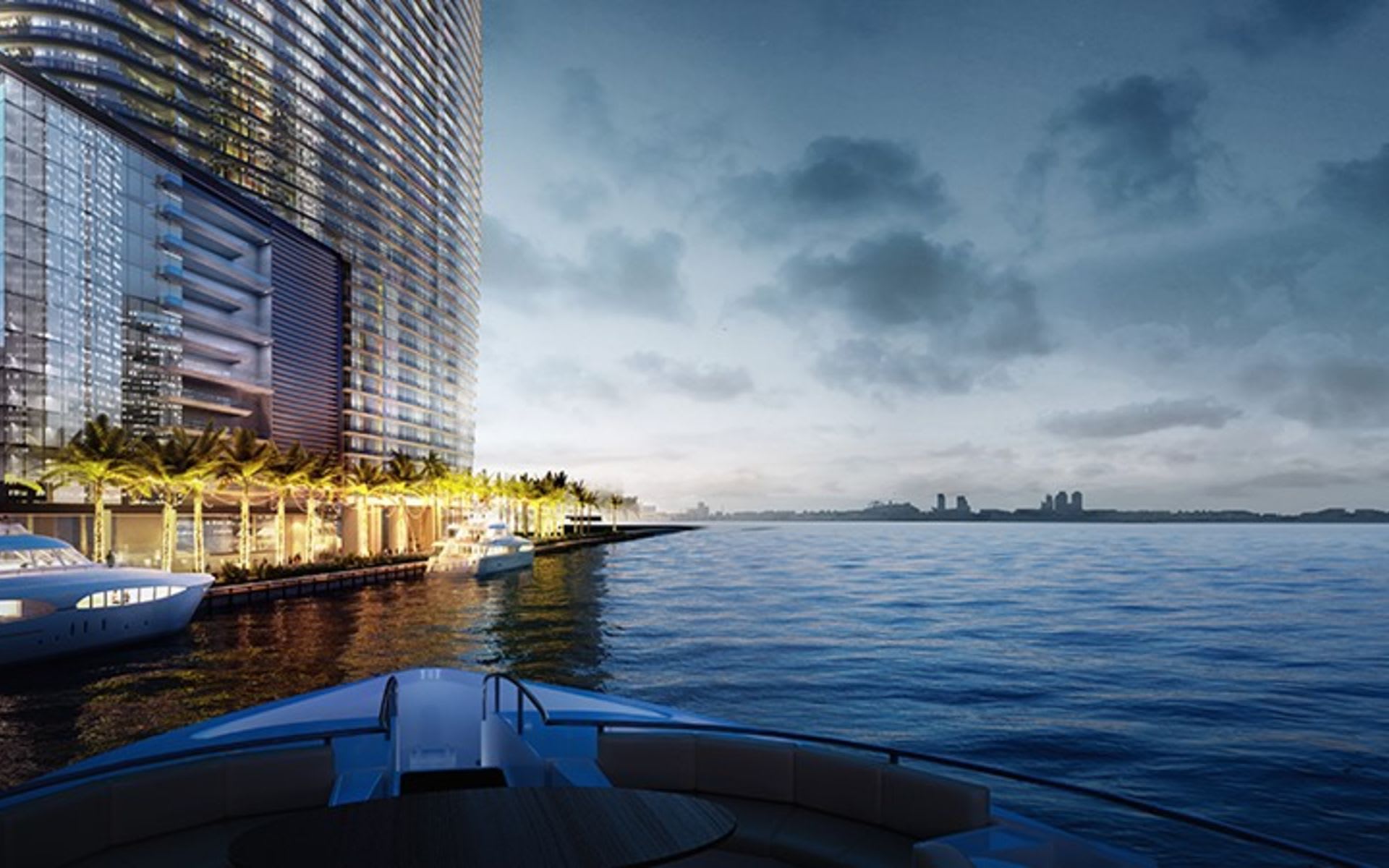 Yacht Marina
Arriving home, beautifully.
The Marina at the Aston Martin Residences provides a unique and exclusive means of getting to and from the heart of Miami with direct access from the Atlantic.

At 900 linear feet with a draft depth of 15 feet, owners can berth their superyachts right outside their luxury homes.

Unparalleled convenience designed for living life beautifully.


Level 52
Sky Amenities
- Curated Art Gallery
- Business Centre
- Conference Room
- Kids Playroom
- Teen Centre
- Game Room
- Vending Area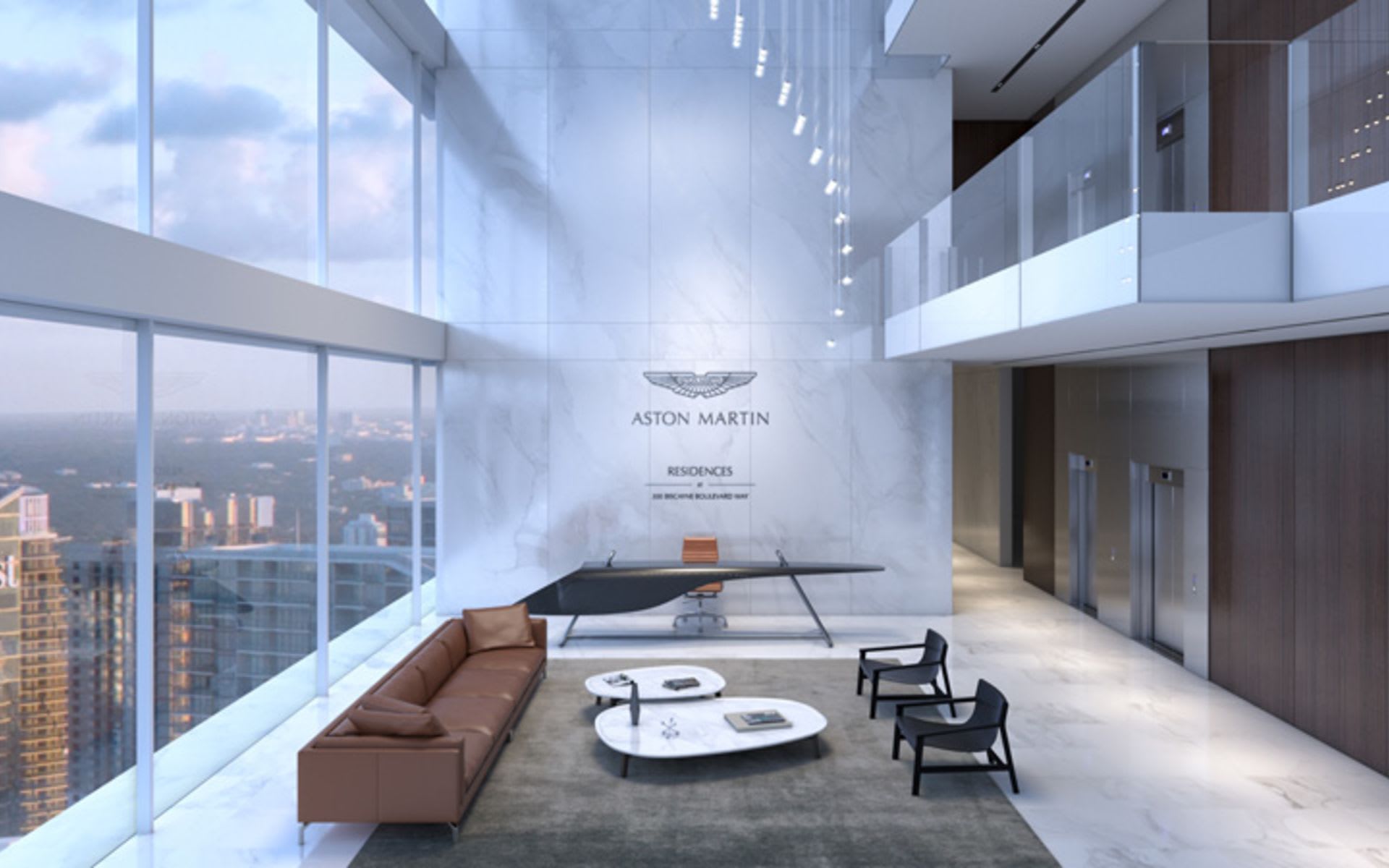 Level 53
Sky Amenities
- Fitness & Spa Lounge
- SPA
- Fitness Centre (Lower Level)
- Spinning Room
- Boxing Room
- Treatment Suites
- Sauna
- Meditation Room
- Beauty Salon
- Barbershop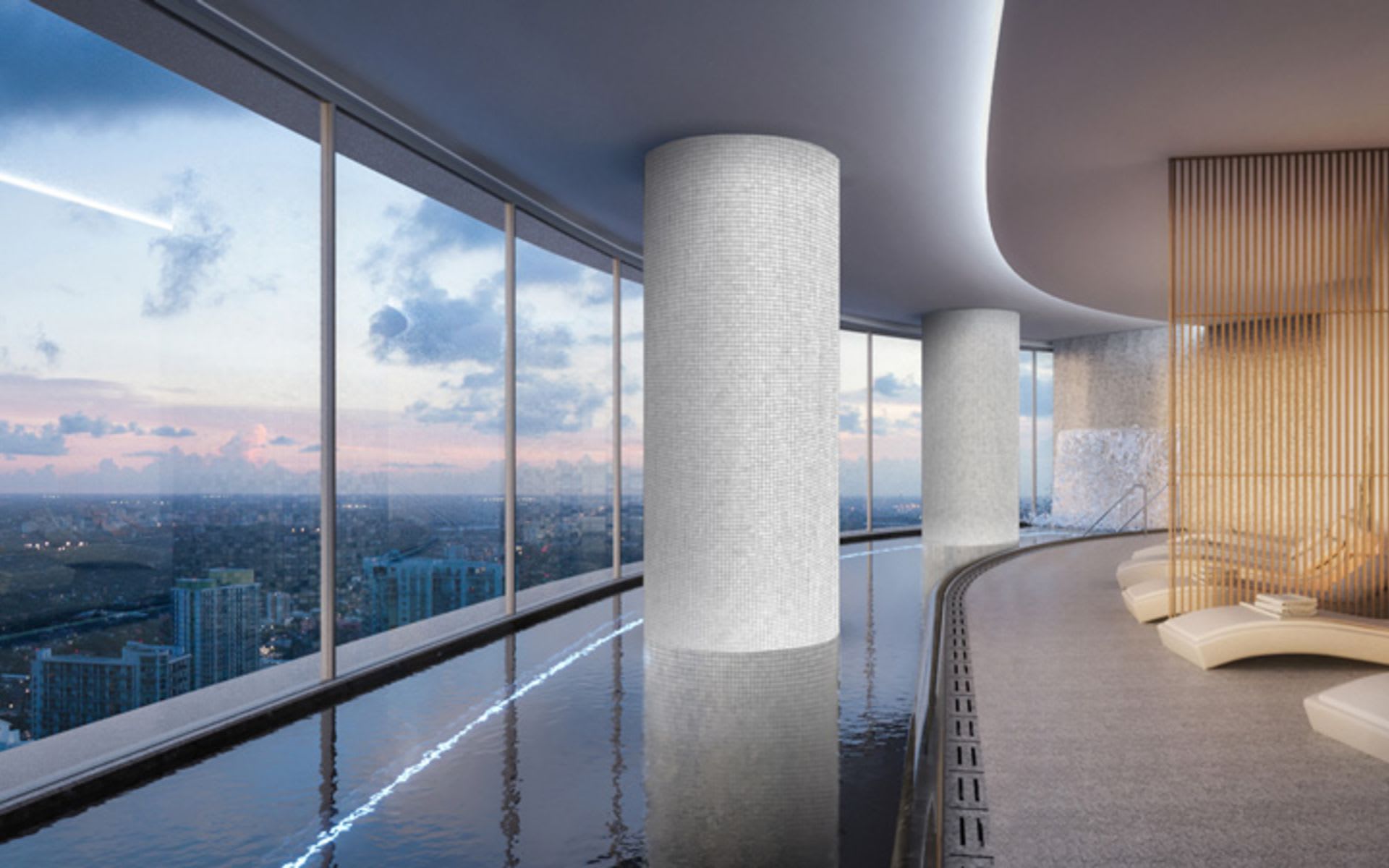 Level 54
Sky Amenities
- Fitness Centre (Upper Level)
- Virtual Golf
- Movie Theatres 1 & 2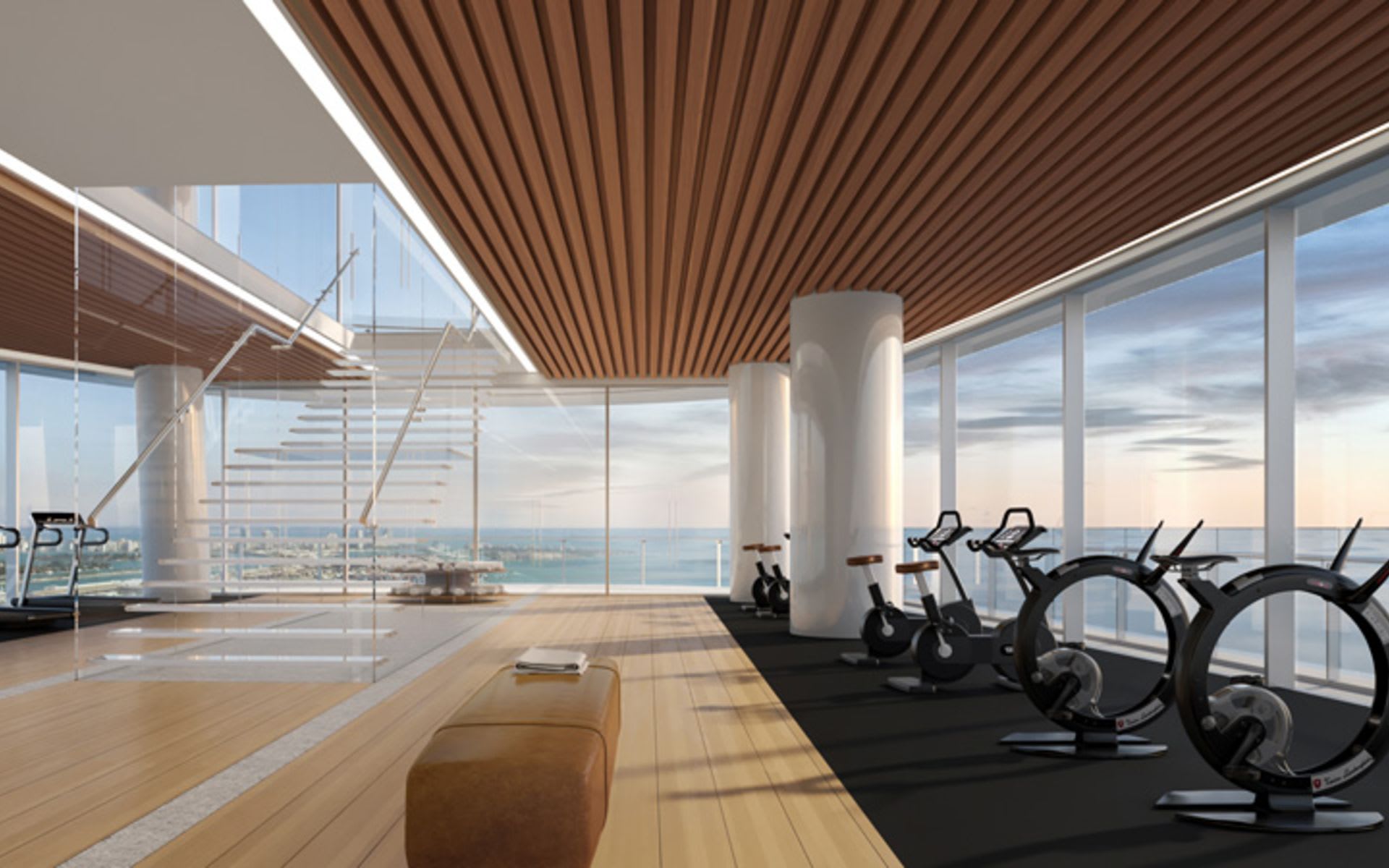 Level 55
Sky Amenities
- Infinity Pool
- Pool Deck
- Pool Cabanas
- Sky Bar and Lounge
- Pool Concierge
- Grand Salon
- State-of-the-art Chef's Kitchen
- Private Dining Room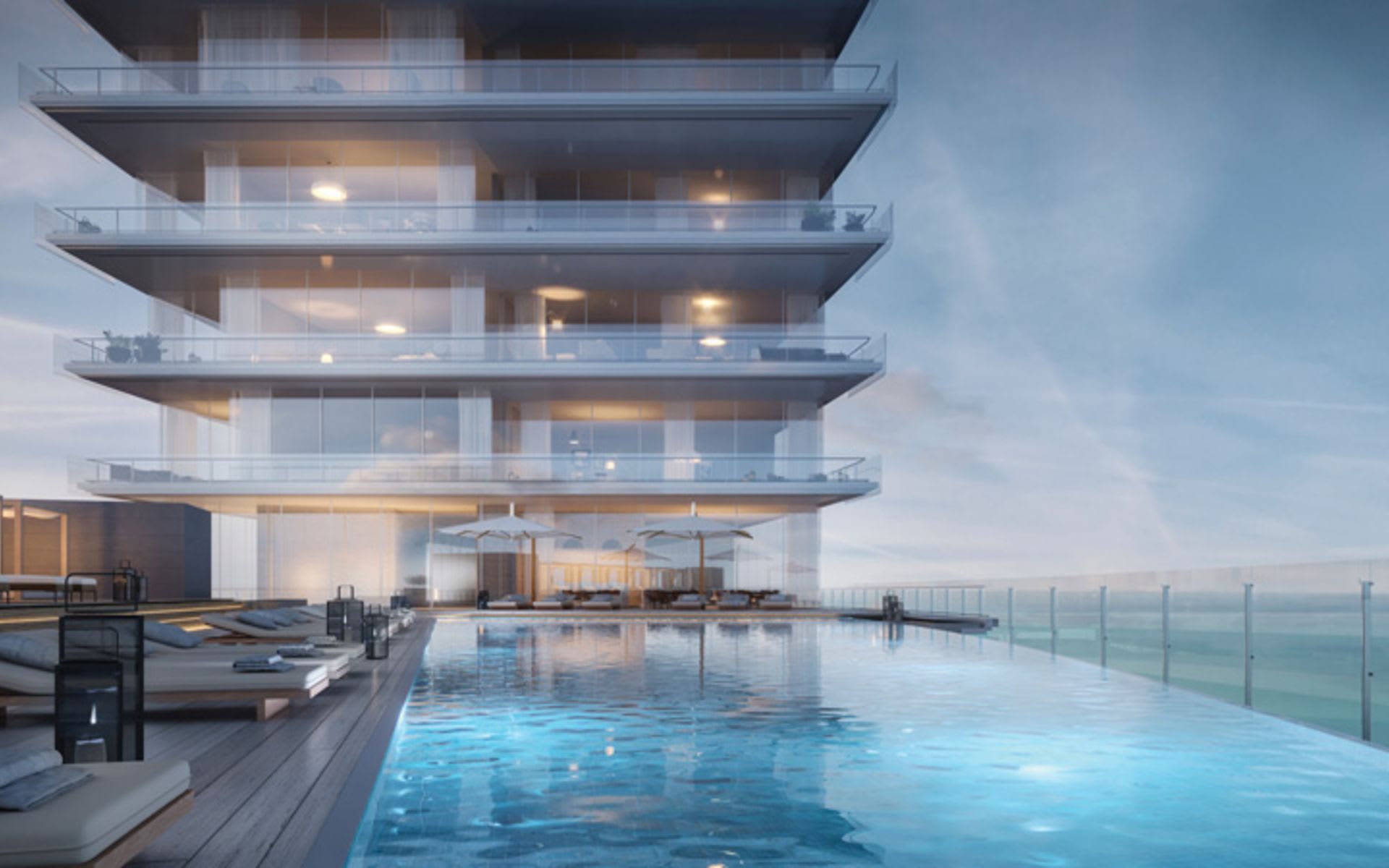 Your Personal Butler Service
The Butler service offers the accessibility, convenience, and comfort of luxury lifestyle management exclusively for residences. Benefits consist of home management, luxury travel support – including flights and excursions across Miami and beyond – luxury boat rental, VIP event access and exclusive beach experiences.

The luxury butler service provides holistic experiences where sophistication meets exclusivity. A team of consummate professionals focused solely on delivering exceptional personal service awaits each of the Aston Martin Residences Miami.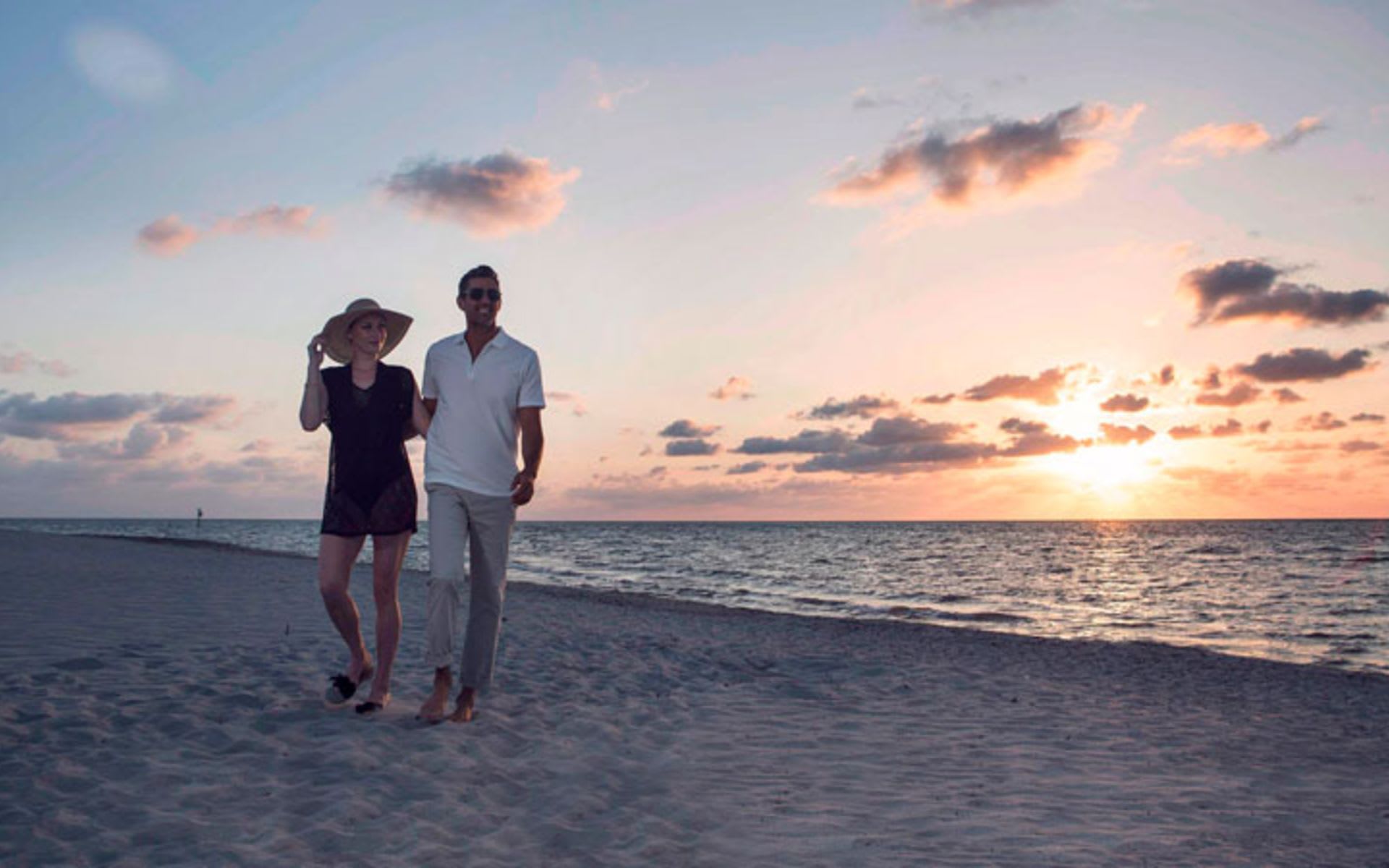 Exclusive Beach Experiences


There are few things more satisfying than digging your toes into the powder-soft sand while bathing in glorious sunshine.

Residents of 300 Biscayne Boulevard Way can enjoy the best of both worlds with beaches just minutes away from their luxury downtown Miami homes.

Owners can use the Aston Martin Residences Butler Service to call an exclusive yacht from their condo for a short cruise along the world-renowned waters of Miami to the beaches. Taking to the water for this journey offers a relaxing and unique perspective of the city and its breathtaking skyline. Live a holistic experience where sophistication meets seclusion.